What were you doing before you came to Spirit Studios?
In terms of education; I've worked in many different music institutions. My own artist project, Diesler, is still currently active and making regular new releases, building on a catalogue I have been developing over the last 20-years.
How did you get into teaching Music Business and Production?
As cheesy as it sounds, it was a chance to give back a little bit and support the next generation coming through. I made a couple of silly mistakes when I was a younger producer and I want to make sure that I can support and guide the next generation not to make the same mistakes. It's so inspiring working with new, up and coming producers and great to be able to offer help to guide them forwards in their career.
Any special areas of interest?
I'm not sure really, I think I'm just generally curious about all aspects linked to music business, production and developing my knowledge. I go through various phases as to aspects that I get obsessed about.
What's your proudest career achievement?
Aside from working at Spirit Studios?! In terms of commercial success I was lucky enough to have one of my artist albums nominated for Radio 1 Album of the Year for one of the specialist shows. Very much humbled to have my work recognised.
What do you get up to outside of teaching?
I'm heavily family orientated and my wife and I have 3 kids who I adore. I'm hoping to encourage them to get into music, and hopefully they all unite into a supergroup!
I was lucky enough to have one of my artist albums nominated for Radio 1 Album of the Year for one of the specialist shows.
What's your favourite album/artist?
I suppose it was the gateway electronic albums when I was younger, stuff by The Prodigy and The Chemical Brothers. There was a kid who transferred to our school who opened my ears to a kind of music which was lightyears away from the pop music that I enjoyed at the time.
What's the best gig you've ever been to?
I was lucky enough to see Amy Winehouse before she turned into a megastar, it was at the Academy and it was only half full. Amazing performance, although I had to leave before the final song to catch my last bus home. Rock and Roll.
What's your musical guilty pleasure?
Watching old episodes of Top Of The Pops and not fast forwarding through the songs I don't like.
Tell us something people may not know about you?
I'm not that mysterious. Or Am I?!… I'm not.
Want to learn from Jonathan?
Jonathan is a tutor at Spirit Studios that teaches on our Music Production courses and Music Business courses.
Listen to Jonathan on Spotify
More tutor profiles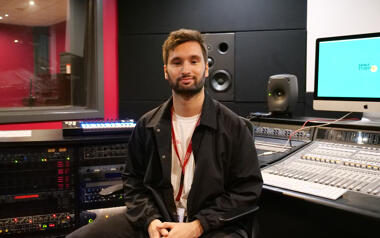 Tutor
As a Spirit Studios veteran, Lewis has taught on a number of our courses and outreach programmes. As a professional sound engineer and producer, his career has seen him travel the world.
Read profile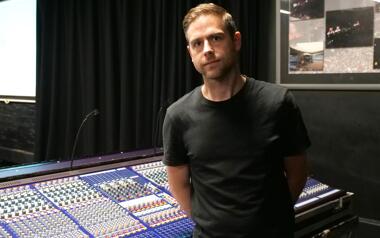 Programme Leader
Paul is an audio engineer who has toured the world with various artists. As well as teaching at Spirit Studios, Paul is also the technical manager at the O2 Ritz here in Manchester.
Read profile
Interested in studying with us?
Click below to start your application, register for an open day or get in touch with any questions