UCAS Application Guide
.
You'll need to apply through UCAS to join one of our undergraduate courses. Here's how.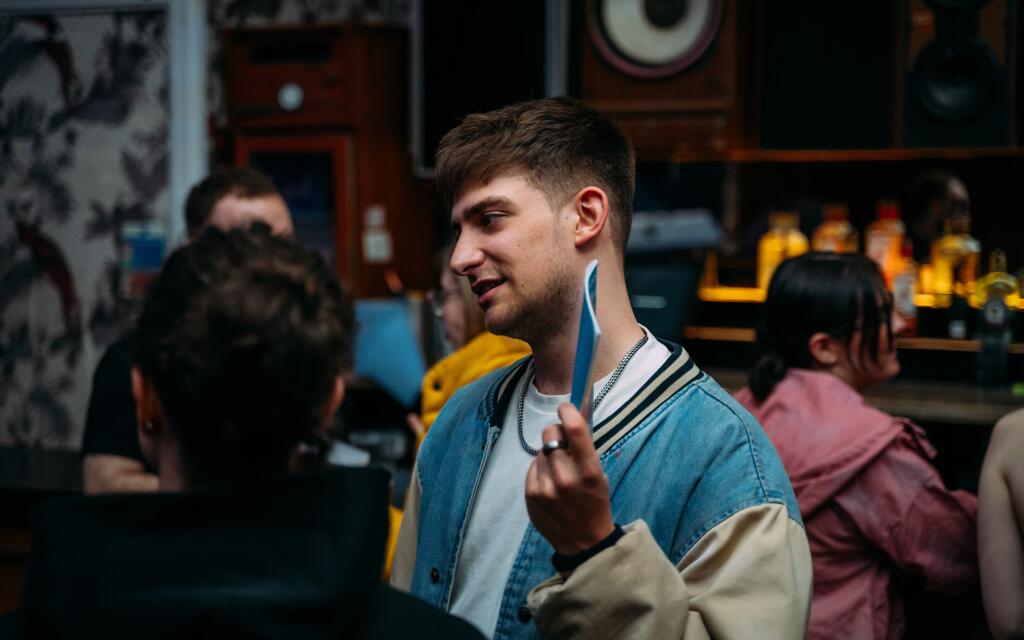 Starting your UCAS application
UK based university applications are made through the University and Colleges Admissions Service (UCAS). To apply for one of our degrees, please register with UCAS. This is a fairly straightforward process that should only take a few minutes. Once you've registered, you'll be taken to your UCAS Hub dashboard where you can create an application.
There is a fee for submitting a UCAS application. This is payable directly to UCAS and is £22.50 if you are applying for just one course, or £27 for multiple courses.
Applied before the January deadline and not currently holding any offers? You can still find a place through UCAS Extra. Find out more.
Adding a course as a choice to your UCAS application
After you've registered with UCAS, you'll be able to create an application and then add a course (or courses) as a choice to that application.
UCAS allows you to apply for up to five different undergraduate courses. Most students will choose five similar courses at five different institutions. However, you're able to choose more than one course at a particular institution if you wish.
Spirit Studios is an independent higher education institution whose degrees are validated by the University of Central Lancashire (UCLan). Therefore our courses will display UCLan's name and logo on the course pages on the UCAS website. You'll see Spirit Studios as the location, as per the image below. You'll need to select University of Central Lancashire, rather than Spirit Studios, when adding a choice to your application.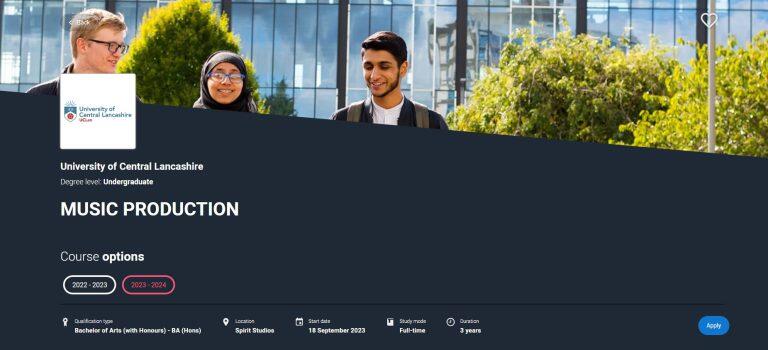 To add a course as one of your choices:
Sign into your UCAS hub.
You'll then be greeted with your UCAS dashboard. Scroll down and on the left hand side you'll see a section called 'Your applications'. You'll be able to click 'Add application' and possibly 'Continue application' if you've previously started an application. Click the applicable option.
From your application, click the 'Add Choice' button. You'll then be greeted with a pop-up box with a number of fields to complete.
Under University/college name, select 'University of Central Lancashire'. Rather than typing the whole name manually, you can just start typing 'Lancashire' for it to create a shortlist to speed things up. Note: typing UCLan will result in 'no matches found'.
Under Course, start typing the name of the course and then select it. We've listed our course names below.
Under Location, select 'Spirit Studios'.
Under 'Start date', select the date at which you want to start the course.
You can leave the 'Further details' section blank.
Select the year of the course you want to start under 'Point of entry'. Most applicants will select '1st Year'. Contact us before applying if you're planning a later point of entry.
Select whether you'll be living at home while studying or not.
Click Save. You've now added a course as a choice to your application. Repeat the above for any other courses you wish to add to your application.
Our courses:
Electronic Music Production and Performance W383 (3FT Hon)
Entrepreneurial Audio Production W391 (3FT HON)
Live Audio Engineering and Music Production J931 (3FT Hon)
Music Business and Event Management W390 (3FT Hon)*
Music Production W37W (3FT Hon)
Music Production (Foundation Entry) W375 (4FT Hon)
*Applications for Music Business and Event Management will open early 2023.
Demo of adding Music Production as a choice to your application: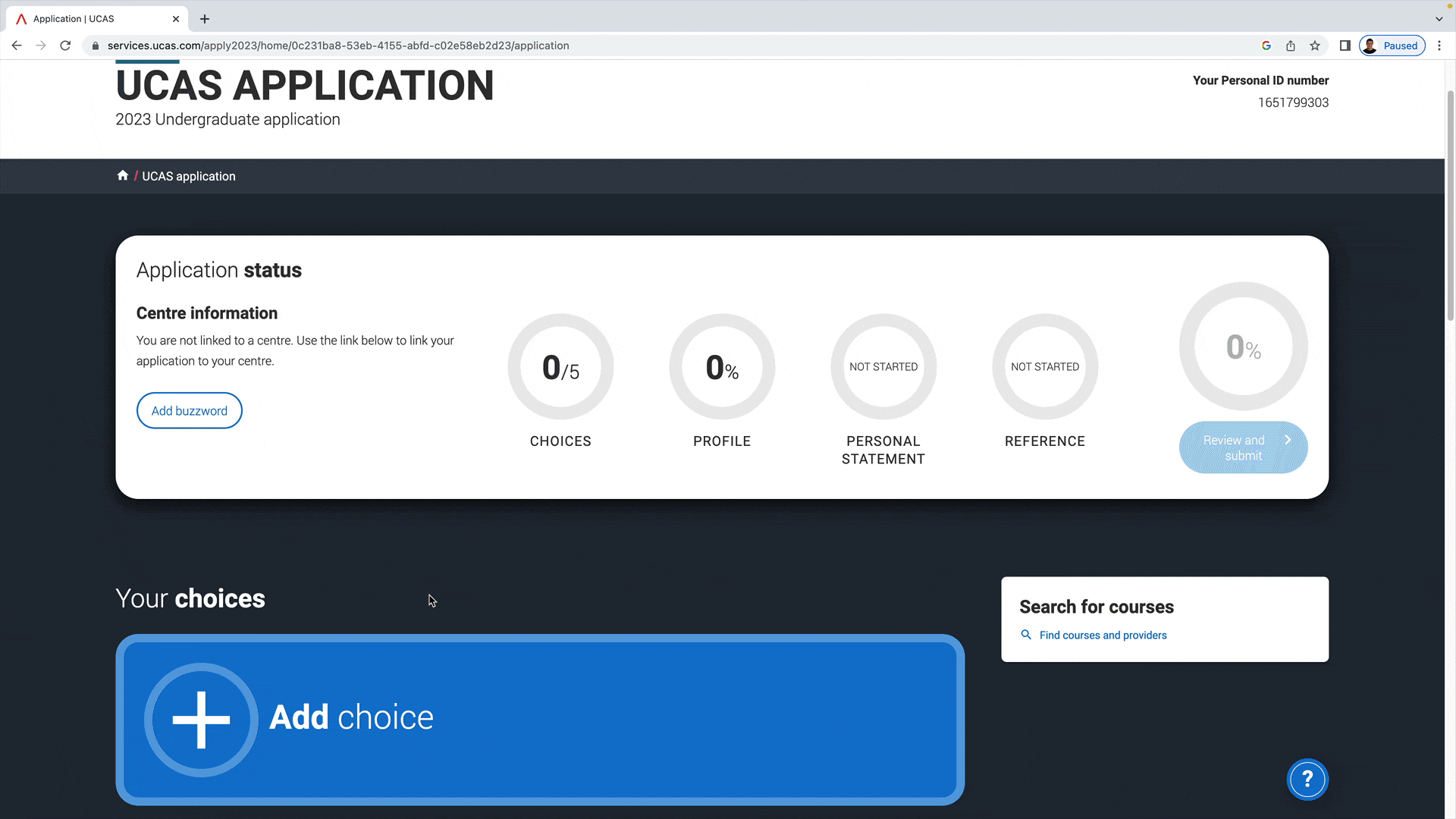 Note: whilst there is an Apply button on the course pages of the UCAS website, it won't add the course as one of your UCAS application choices. It will eventually take you to a page that states 'You will need to manually add this course as a Choice in your new or existing application'. This is the case for all UCAS applications, regardless of university and course. Follow the above steps to add a course as a choice to your application.
If you're having difficulty adding one of our courses as a choice to your application, please get in touch with us. We'll be happy to help.
Completing your UCAS application
Along with choosing up to five courses, you'll need to provide additional information with your UCAS application:
Academic qualifications
Personal statement (UCAS has a great guide to help you)
Reference
Once all information has been provided, you can submit your application. Please see below for UCAS application deadlines and important dates.
How your application is considered
We'll assess your application looking at your academic qualifications, predicted grades, and your personal statement. We look for evidence of your passion for the subject, as well as your ambitions, knowledge and skills and any previous experience. However, we understand that not everyone will have had opportunities to study or gain experience in music production or sound engineering. You shouldn't be deterred if you don't think you've had enough technical experience. We'll guide you through the basics.
Once we've considered your application you may be invited for an informal interview so we can find out a bit more information about you.
UCAS application deadlines and important dates
25 January 2023

- UCAS 'equal consideration' application deadline for all undergraduate degree courses for entry 2023 (except those with a 15 October deadline)

23 February 2023

- UCAS Extra opens

8 June 2023

- If you receive all decisions by 18 May, reply by 8 June

30 June 2023

- Applications received after 30 June are entered into Clearing

4 July 2023

- Last date to apply for a course through UCAS Extra

5 July 2023

- Clearing opens

17 July 2023

- If you receive all decisions by 12 July, reply by 17 July

21 September 2023

- Final date for 2023 entry applications

17 October 2023

- Last date to add 2023 entry Clearing choices
Need help?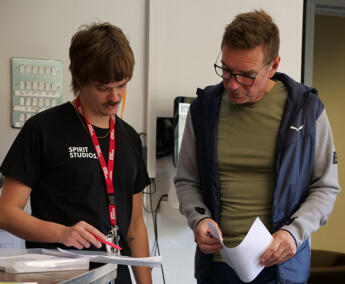 You may also be interested in...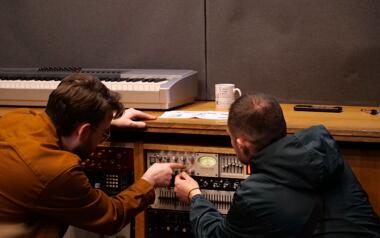 So, you applied to university and have received all your offers. Now what? Here's a guide to responding to your UCAS offers.
Find out more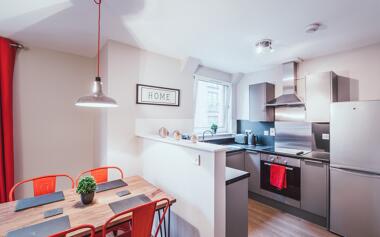 With a huge variety of accommodation options available to you, it couldn't be easier to make Manchester your home.
Find out more