What were you doing before you came to Spirit Studios?
I've got over 10 years experience working in creative facilitation and education. Outside of that, I've built a career working as an electronic musician and performer. I've composed and produced collaborative releases on Manchester's Modern Love Imprint which has given me the chance to perform in places like Berghain, Boiler Room, and Village Underground.
Any special areas of interest?
I'm really interested in creative work which exists in dialogue with technology. This is something that informs my teaching and creative practice, which often features ideas drawn from sound system culture. In terms of the tools that interest me, Ableton Live is a major focus and is something I've used in live shows, theatre pieces and sound installations. I often work with a computer as part of my process. I'm always keen to find new ways to get 'hands-on' with music-making and performance.
What's your proudest career achievement?
I've been lucky enough to facilitate so many creative projects with young people and students, and I'm always immensely proud of seeing the people I've supported flourish. Besides the beautiful work that's produced, witnessing someone's confidence grow as they find their voice really is a privilege. I got to experience this most recently during our degree show – some really brilliant work from across our music production degrees.
In terms of my own practice, I think putting out work that has the chance to connect with people is always a really rewarding moment. Releases I've worked on have been featured in MixMag and Resident Advisor, included in Daniel Avery's influences mix for 6 Music and have been played out by the likes of BICEP and Björk. Björk's work had such a big influence on how I perceive music and art, so when she played a track from the last record I released at Le Guess Who? festival, that was a special moment!
What do you get up to outside of teaching?
I like cooking, running and just hanging out, doing music stuff. I really like going to music workshops when I can. I went to a gamelan session recently, which is a very percussion focused form of Indonesian music which was really cool. I also like going to galleries and art spaces – always a good place to get a new perspective on creative work!
Releases I've worked on have been featured in MixMag, Resident Advisor, included in Daniel Avery's influences mix for 6 Music and have been played out by the likes of BICEP and Björk.
What's your favourite album/artist?
I'm not sure about favourites, but I've been revisiting a lot of the earlier SND stuff recently – 'Newtables' is definitely a highlight.
What's the best gig you've ever been to?
I saw Steve Reich's 'Music for 18 Musicians' at the Stoller Hall recently. Seeing it performed live really brought a piece to life in a new way for me; really amazing!
What's your musical guilty pleasure?
No such thing, it's all on the table.
Tell us something people may not know about you?
I once performed in an empty cistern in Copenhagen which had a 17 second reverberation!
Dan is an experienced tutor on our music production courses, and is the programme leader for BA (Hons) Electronic Music Production and Performance.
Listen to Dan on Spotify
More tutor profiles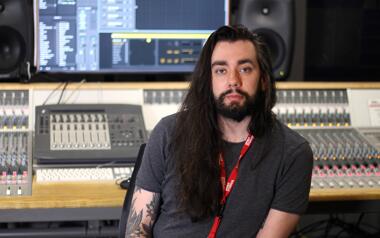 Tutor
Josh is a producer and musician who has toured extensively and produced audio for some high profile clients.
Read profile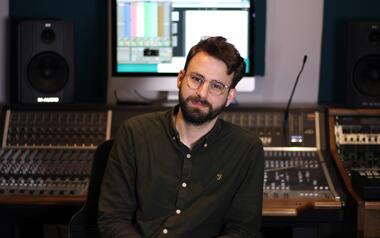 Programme Leader
Josh is a multi-instrumentalist, composer and producer whose work explores temporality within music. While his main focus is the sonic arts, Josh's work is usually collaborative and often uses architecture, film and design as a part of his projects.
Read profile
Interested in studying with us?
Click below to start your application, register for an open day or get in touch with any questions