As the bass guitarist of the mighty Manchester-based rock band New Order, and founding member of his latest venture Sea Fever, it was an honour to welcome him to the studios.
The masterclass began with an overview of Tom's extensive career in the industry, inspiring students with anecdotes of his collaborations with Iggy Pop and Brandon Flowers (to name just a few). He gave an insight into what it's really like to travel the globe on tour, having performed in venues such as the Hollywood Bowl and Sydney Opera House, as well as local favourites like Night and Day Cafe right here in the heart of Manchester.
His lecture covered a variety of thought-provoking topics, all designed to get students thinking critically about the industry and how they will find their footing within it. Guided by Tom, the group debated the differences between bedroom and professional studios, the tensions between technology and creativity, and the ever-changing role of engineers and producers.
The lecture finished with a talk about mixing techniques and the varying approaches artists may choose to take in the production process. It was this discussion that informed the 'headline act'; a two hour mixing masterclass in which students were split into three groups and tasked with creating a rough mix of one of Tom's newest tracks. Tom moved from group to group listening, guiding and giving feedback on their mixes. The results were fantastic and really highlighted the differences in creative approach.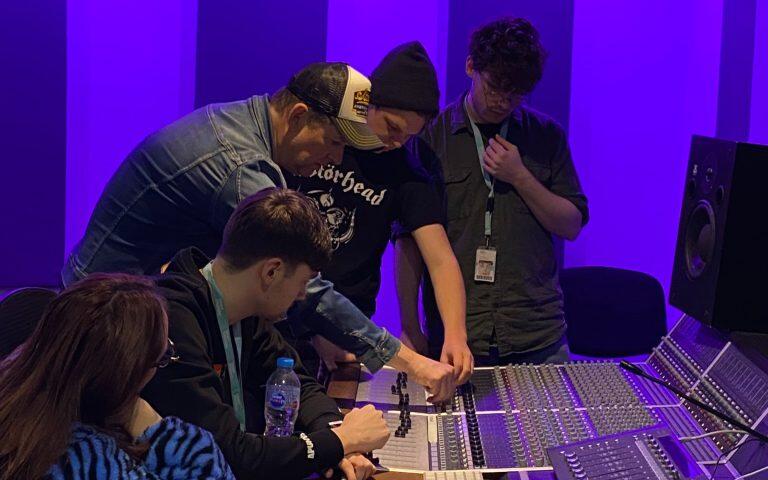 The session was one of our most successful to date and feedback from students has been overwhelmingly positive:
"It was a huge privilege to work with someone who has had such a crucial impact in the industry"

Alexander Reeve, Creative Music Production student.
Tom has expressed a keen interest in hosting more sessions here at Spirit in the future, and has even remained in contact with some of the students, offering further advice on their current projects.
We're already looking forward to welcoming Tom back in the coming months and are delighted to see his passionate relationship with our students grow.
Interested in studying with us?
Click below to start your application, register for an open day or get in touch with any questions