Tim is a Producer for the stars. He's worked with many household names including Gorillaz, Snoop Dogg and One Direction, as well as renowned Producers like John Leckie and Ryan Tedder. Before all that though, he was a student on one of our production courses in the early 90s! He and Ian Stewart – the second co-founder of Blueprint Studios – met on their first day with us 1999.
After a quick tour of the beautiful studios and recording spaces he's built over the years, we sat round the Neve desk for an in-depth masterclass. He talked us through his experiences since graduating, offering the tips he's learned along the way.
His biggest piece of advice? Choose the songs you work on carefully.
"At some point you have to create boundaries. Ultimately, you'll only ever be as good as the song you're working on."

Tim Thomas
Of course, when you're just starting out you need to gain as much experience as possible. There's always something to be learned from working on 'bad songs', and Producers still need to pay their bills. However as he reflected on some of his past projects, he regrets not creating those boundaries sooner. Learning the power to say 'no' can be a real turning point in a Producer's career.
"Don't be the person they only go to because you're offering to work for a cheap fee. Know when to stop working for free. There's a fine line between getting the practice and stunting yourself in the long run."

Tim Thomas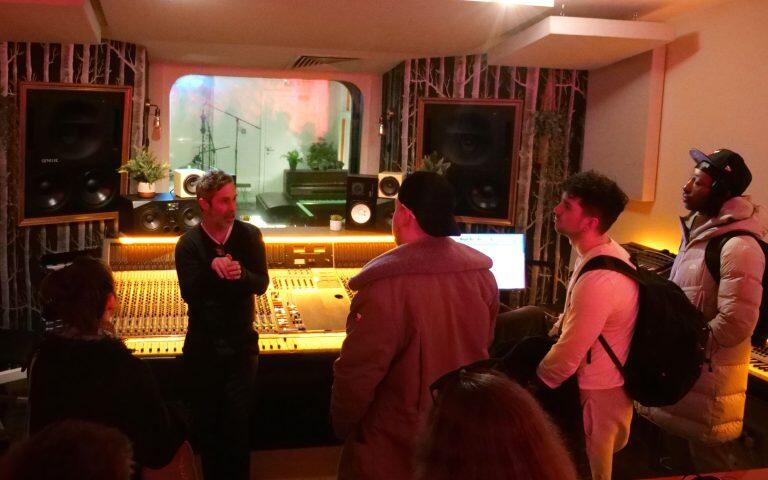 He also talked about his workflow, and the need to properly prep before a recording session. You don't want to be caught out because you didn't spend the time setting up the studio. Make sure you've got all your spare instruments and mics on hand so that when inspiration strikes, you don't miss out on that creative moment.
This was truly an inspiring masterclass; one of our best to date. It was great for our students to link their own courses to a successful career path, and to see a reputable studio – and Producer – in action. Huge thanks to Tim for taking the time out of his busy schedule to welcome us to Blueprint.
Interested in studying with us?
Click below to start your application, register for an open day or get in touch with any questions