Eager to find out what he has been up to and hear about his wealth of experience in the industry, we caught up with Tom for a quick chat.
Tom, before we get started, tell us how did you first get into the industry?
Good question. Before heading down the engineering route, I played in a few bands. But, for me, audio engineering seemed like a sensible segway for making money. It was never a case of putting all my eggs in one basket and hoping to get a record deal.
After graduating, I decided to take the plunge and move to London to really get my feet wet in the industry. I knew I wanted to work in the top studios and get advice from the best people around. Before getting into Snap Studios, I worked on an eBay store for Funky Junk selling audio equipment. Whilst living in London, I also interned at Strongroom before moving on to work at Air Studios.
And so, would you say moving to the 'big smoke' was always in the pipeline?
Kind of. But, if I'm honest, I was always a bit scared of the idea. While working as a Studio Assistant, the one day a week job at Funky Junk came up, so I took the plunge and moved to London the next day. You have to take all the opportunities, no matter how small, as you never know what they might lead to.
Exactly, we couldn't agree more. Before securing a job at Snap Studios, you worked at Air Studios and Strongroom. How was your experience working at such well-established studios?
Yeah, wicked. During my first week at Strongroom I worked on a session with Alt-J. And, my first session at Air Studios involved working on a sci-fi action film, Terminator Genisys. But, Air Studios is a completely different kettle of fish, and it was a great opportunity to get trained in a completely different way.
That's pretty cool as far as first weeks go. Air Studios is the page for film-makers, right?
Yeah, that's right. Essentially, the biggest filmmakers either go to Abbey Road or Air Studios. I worked as an Assistant Engineer; setting up microphones, testing gear, running Pro Tools and everything else which comes with running a session.
During my time at Air, I worked on number of films, including; Batman, Boss Baby, Fantastic Beasts, By the Sea and Tom Ford's film, Nocturnal Animals. No day was ever the same, as one day I could be working on 70-piece orchestra sessions, and the next working on Fergie's album. It was very intense, and very different from your typical recording studio, but I really enjoyed it.
Since you've been working at Snap Studios, you've worked with some pretty big names, including Years & Years, Shy FX, Jake Bugg and Clean Bandit. Who would you say has been the stand out artist to work with?
That's a good question. But, a really difficult question if I'm honest. I'd have to say, James Ford (of Simian Mobile Disco), he is an artist, but I typically have worked for him when he's producing, he produced the latest Arctic Monkeys record, and recently mixed the new Foals record. He is a prolific producer.
With new competition coming into the game, how do you keep up with an industry that's constantly moving and always changing?
It's tough. I guess, you kind of have to have your fingers in all the pies. Even as an engineer, you need to be able to cover all bases, and so it's useful to be able to produce and perform. Also, it's important to try and foresee trends to ensure you can keep up with an industry which is constantly changing. But, most importantly, it's essential to keep an eye on all the different avenues.
But yes, it's a challenge – it really is.
Tom, before you go, there's one last thing. If you could work with anyone past or present, who would it be and why?
I've literally never been asked that before. I would have to say Led Zeppelin just because they were serious innovators in the studio, and were just timeless. And, I feel like if I was to work with them today it would just be as exciting as it was 40 or 50 years ago.
Thanks for chatting with us, Tom. We can't wait to hear what you get up to next.
Inspired by Toms story? Take a look at our Music Production courses or our Sound Engineering courses.
More student stories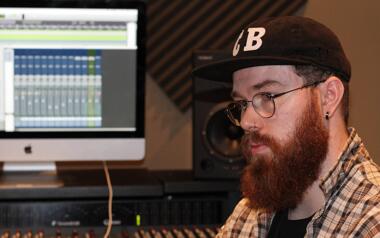 Graduate Chris Brearley gives advice to our Music Business and Event Management students and talks about setting up his own events promotion company, Flat Plastic, and joining Scruff of the Neck.
Read full story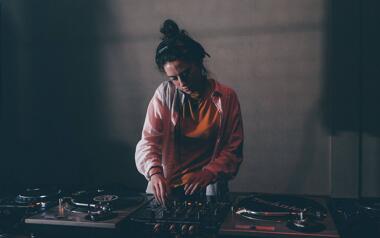 Or:la studied electronic music production with us and has since been working as a DJ, hosting her own club nights, and founded record label CÉAD.
Read full story
Interested in studying with us?
Click below to start your application, register for an open day or get in touch with any questions