In between her busy schedule warming up for the mighty Bicep at Parklife Festival, and preparing for further DJ dates playing alongside the likes of Âme, Barnt and New Jackson, we caught up with Or:la.
Could you tell us what you do and how you got started?
I'm currently in the process of setting up my own record label after deciding to take a three month break from running my club night; Meine Nacht. This will be a vinyl only label, set up by myself and Beau Soutar, the other founding member of Meine Nacht. We're planning to get things off the ground over the next couple of months, so it's all very exciting!
I think there were a number of factors in my early teens that guided me into the music industry. After learning to play the guitar and piano, naturally I became intrigued by electronic music and so I started to go out and listen to DJ's and live acts which had a really big impact on me. I then moved to Liverpool to study, where I set up two different club nights. This helped a lot in terms of cementing myself in the Liverpool scene.
What inspired you to get into the music industry?
If I can remember correctly, it was after seeing a DJ set back in my hometown before I moved to Liverpool. I can't recall which particular DJ it was, but I remember coming home and thinking that I just needed to give it a go myself. It was like an epiphany; very weird experience!
I really enjoyed the EMP course. One of the tracks that I made while studying will be part of my upcoming EP, so I think that says a lot!

Orlagh Dooley
How do you go about getting started producing a track? Do you schedule in dedicated production sessions, or do you produce when something inspires you?
I don't schedule in dedicated production sessions as such, but I do set time aside in my head to finish tracks. If I wake up feeling creative and in the mood to make music, I'll most likely spend that whole day working on tunes. I gain a lot of inspiration from going out and seeing live acts/DJ's, as it's the kind of environment in which the type of music that I'm making is aimed for. I've booked a trip over to Berlin soon for that exact reason.
You recently signed to a well respected UK label – can you tell us a bit about this? What was involved in the process of getting signed?
I sent my tracks to the label owner and he got back the next day asking me to send another track over. After I did this he told me he wanted to sign all three, and that was definitely the best news I've ever received in my life! It hasn't been plain sailing though. I've sent my tunes to many labels, but because of the crossover in styles, it hasn't been easy to find a label keen to sign every track.
I have to keep the name of the label under wraps until the release, but the EP will be coming out on vinyl and digital in November, so keep an eye out for me!
How did you build up a name for yourself as a DJ?
It's really not easy trying to get your name out as a DJ when just starting out. I don't think the cliché "it's all about who you know" is good advice. I feel that it's about working your way up, working hard and doing everything you can to get your name out. As cheesy as it sounds, if you have a dream and keep working on it, you'll achieve it.
As well as DJing at club nights, you also host your own. How did you get started with this, and what are the challenges?
When I first moved to Liverpool, I wanted to be able to play my music in public, so I think this was a big factor in deciding to start my own club night. Going from this to being named as one of the top three club nights in the world by Mixmag is just madness. We've worked really hard though and with Meine Nacht, I feel that it's more than just a 'club night'. We seek out unique and secret locations for every party, each one is BYOB (bring your own booze) and we always try to keep the capacity to under 200, which further proves that we're not just in it for the money.
Can you tell us about any projects you're working on or any upcoming gigs?
I've been asked to curate a weekly radio show in the months leading up to LIMF Festival (Liverpool International Music Festival). So at the minute I'm just sourcing the right music and content for this. In the next couple of weeks I'll be playing in Glasgow, Celtronic festival in Ireland, in a castle in Lincolnshire nearing the end of the month.
What has been the highlight of your musical career so far, and what are your goals for the future?
It's a pretty obvious one, but the highlight of my musical career was getting my music signed. I don't think anything could come close to topping that feeling. For the future, I want to build my label with the same focus and determination that went into building Meine Nacht. We're also looking forward to having a few established names on the label.
Finally, how did you find our Electronic Music Production course?
I really enjoyed the EMP course. One of the tracks that I made while studying will be part of my upcoming EP, so I think that says a lot! The facilities can't be beaten, and it was clear that everyone in our class had a really good working relationship with our tutor Damion. Genre or style was never a barrier during the course, and it was also great that there was only under ten people in the class.
Inspired by Orlaghs story? Take a look at our Music Production courses.
Listen to Or:la on Spotify
More student stories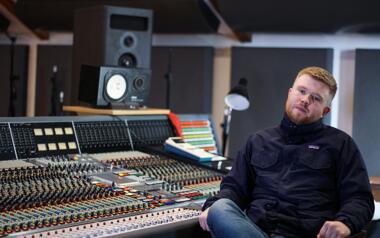 Having started his degree with very little prior experience, three years down the line, Tom has landed himself a permanent position at Wigwam Acoustics - one of the world's leading live sound companies.
Read full story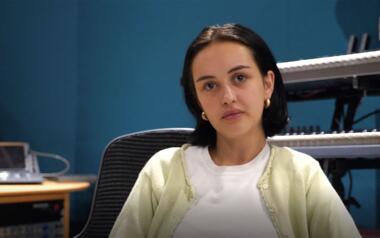 After graduating from our Music Business degree course in 2022, Carla's career has begun with a flying start. We caught up with her to find out about her time at Spirit, and to see what she's been getting up to post-uni.
Read full story
Interested in studying with us?
Click below to start your application, register for an open day or get in touch with any questions