What were you doing before you came to Spirit Studios?
Working as a Producer/Engineer for over 10 years – which I continue to do alongside teaching at Spirit – mainly working with guitar bands and making as much noise as possible!
How did you get into music production?
Messing around with an old Fostex 8-track as a teenager, recording my own stuff and friend's bands… basically getting it completely wrong! After leaving school I became aware of the Industry Courses at Spirit and without hesitation took the plunge and studied here for 2 years. I really made the most of it and worked away in the studios, figuring it all out. When the course concluded I was lucky enough to land an internship at a studio, eventually going on to run the place.
Any special areas of interest?
I'm big into analogue stuff; 2″ tape, echoes and anything old and dusty. When I was looking into how my favourite records were made they all had tape in common so I dedicated a lot of time incorporating this into my productions.
Overnight I went from being an intern, to engineering and mixing parts of Plan B's 'Ill Manors', which was a UK number one and Mercury nominated.
What's your proudest career achievement?
Overnight I went from being an intern, to engineering and mixing parts of Plan 'B's Ill Manors', which was a UK number one and Mercury nominated. It was a last minute session and I was the only person available at the studio to do it. Luckily it went well and since then I've worked with 5 Seconds of Summer, James Arthur, The Script, Don Broco and Cassia, and even a session with Sir Ian Mckellan. I also made the shortlist for the Pro Sound Awards 'Engineer of the year' in 2013.
What do you get up to outside of teaching?
Sessions and more sessions which doesn't leave time for a whole lot else. I find time to cook most days and that's about all I have time for. I haven't managed to poison anyone yet but I keep trying…
What's your favourite album/artist?
Nine Inch Nails album Year Zero. I could name many but that would be the closest to a perfect album for me. I'm also a big Placebo and Black Rebel Motorcycle Club fan.
What's the best gig you've been to?
Easily Nine Inch Nails at Leeds in 2007, nothing else has come close since.
What's your musical guilty pleasure?
…Robert Palmer
Tell us something people may not know about you
I've got Tinitus. Look after your hearing!
More tutor profiles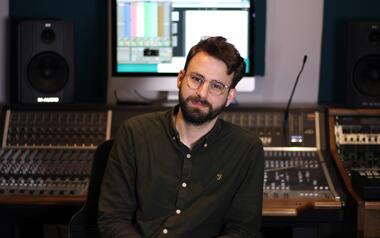 Programme Leader
Josh is a multi-instrumentalist, composer and producer whose work explores temporality within music. While his main focus is the sonic arts, Josh's work is usually collaborative and often uses architecture, film and design as a part of his projects.
Read profile
Programme Leader
Jon is a producer, label manager, DJ and promoter who has over a decade of experience within the industry and has released five albums under the alias Diesler.
Read profile
Interested in studying with us?
Click below to start your application, register for an open day or get in touch with any questions