Since graduating from our Live Sound Engineering and Music Production degree in 2020, Kels has crafted a hugely successful career as a Desk Prep Technician at Wigwam. She returned to our Charlie Jones Live Venue last week – this time to deliver a lecture rather than receive one – to discuss all things live sound and career development.
Given her status as a Spirit alumna, it's no surprise that Kels' guest lecture was one of our most popular to date. She began by discussing the transition from student to working life, reflecting on her own experiences and the struggles that came with graduating and finding work during the pandemic. These experiences make her an expert in networking and career development, having overcome more than her fair share of obstacles when making her start.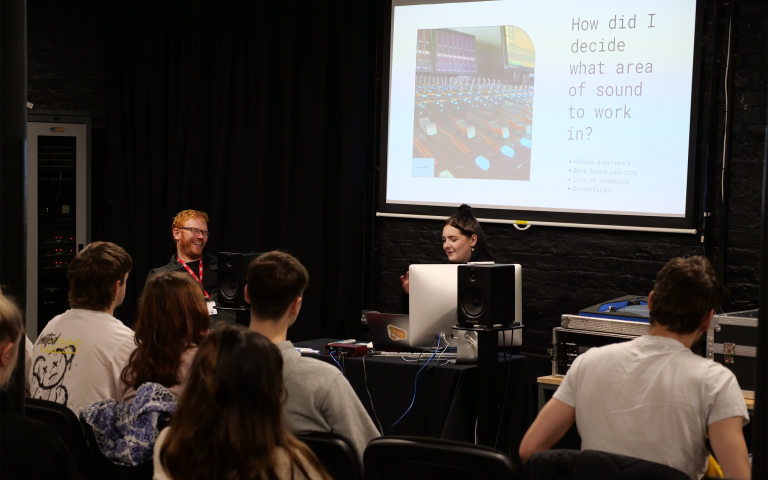 In particular, she highlighted how students can (and should!) make the most of their course, and how a degree can open countless pathways into the creative industries. From volunteering for every hands-on experience you can get, to shadowing tutors and networking at any given opportunity, her advice truly resonates with the industry of today.
Now a successful Desk Prep Technician at Wigwam, Kels didn't come empty handed. She brought along a number of pieces from their tech collection, including an IEM (In Ear Monitors) rack, monitors and a huge collection of cables. Kels spent time going into great detail about each piece of equipment and how she uses it day-to-day, giving the group the chance to get hands-on themselves.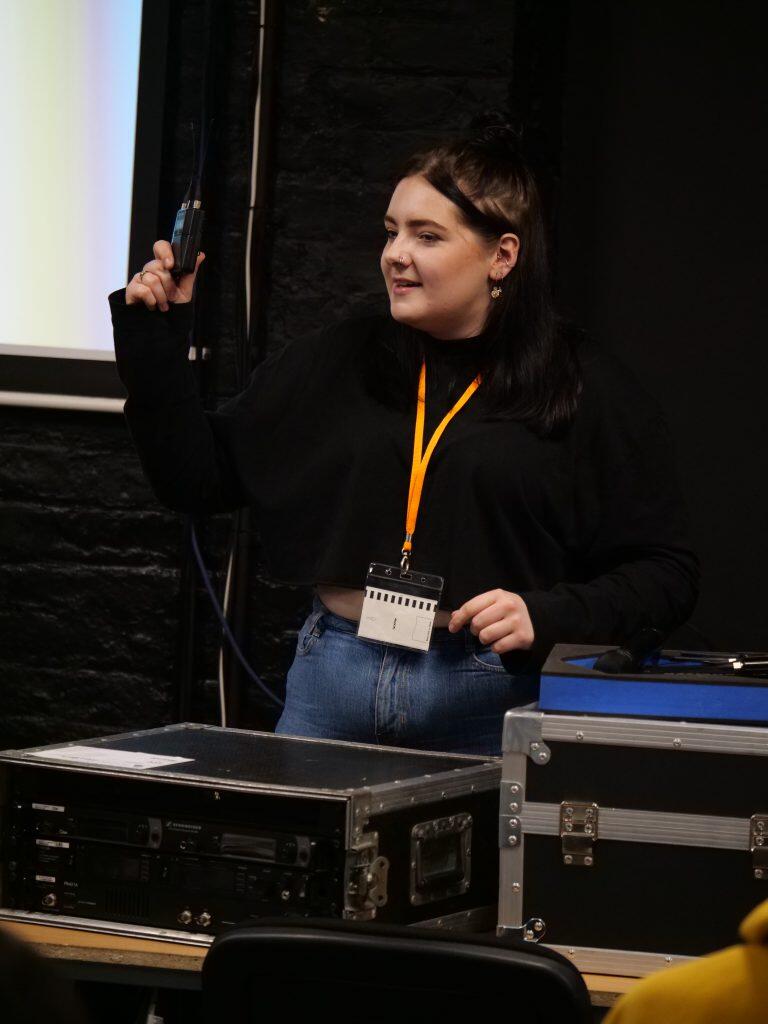 Kels told a story about not knowing that an IEC/kettle lead was a power cable [when she first started]. I shadowed a gig straight after Friday's session and almost straight away got asked "Hey, could you grab an IEC for me?". I wouldn't have known what that was if Kels hadn't told that story… it's the little things.

Sarah Williams, first year Live Audio Engineering and Music Production student
Arguably most useful of all though was the news that Wigwam and Solotech (Wigwam's parent company) are actively hiring. They're on the lookout for engineers, musicians, DJs, project managers, back of house staff… you name it! Kels gave our students direct contacts for them to reach out to for both permanent positions and summer placements – perfect for when we break up for the end of year.
Our relationship with Wigwam is only getting stronger, and after another fantastic guest session full of practical tips and opportunities, we're excited for what the future holds.
Interested in studying with us?
Click below to start your application, register for an open day or get in touch with any questions