Her first visit to Spirit since pre-pandemic times, it was a delight to have her in the studios. An Ableton Live and Push expert, we couldn't think of anyone better to host our Push 2 masterclass.
Poppy has produced and written for major labels and artists such as Apollo R&S, Wolf Music, The North Quarter, Swing Ting and more. She's also an inspiring artist in her own right, currently fronting and producing her neo-soul collective; lovescene.
The masterclass
Students from across our degree programmes came together to hear Poppy's tips and tricks, earned through years of experience as a master of Ableton. The masterclass covered Push 2 creative techniques, such as beat-making and sampling tips, as well as a writing demo and a deep-dive into her workflow methods.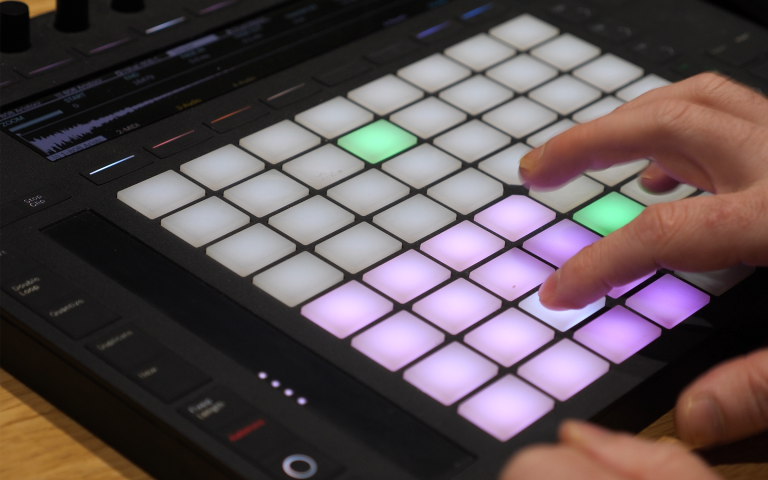 Forming the bulk of her demo, Poppy showcased her process for creating a freestyle track. Connecting an SM58 mic to her setup, she showed how recording a rhythm as soon as it comes to you in the creative process (either by humming or singing into a mic) can save you so much time in the long run, and is the easiest form of 'note-taking' in a session. Warning students to not fear their own voice – "everyone in the world can sing… overthinking it is the killer of creative flow" – Poppy highlighted the benefits of having as many creative sources to work from as possible.
"It's better to have too much down than not enough. Be weird. Just get it out of your system when inspiration strikes. It's always better to have too much than too little."
By recording yourself humming as you work through a track, you'll never lose your flow, helping to maintain momentum in a creative surge. She then explained how to use the software to convert such recordings directly into drum beats, making it the ultimate time-saving move and further demonstrating the power of a Push 2.
The masterclass also touched on performance tools, particularly beneficial for our Electronic Music Production and Performance students. Something we all agreed on; sets look so much more polished when the performer is using a Push live on stage, really helping to energise a crowd.
"It allows you to stay in that creative zone, continuing to be playful with your tracks and driving innovation with every set."
It was great to see the Push 2 in action and to learn creative tricks from a certified expert. We hope to see Poppy back in the studios soon.
Guest Lecturers at Spirit Studios
At Spirit Studios we pride ourselves in providing industry-relevant music production courses. These are complimented with guest lecturers and workshops though our Spirit+ programme, and will benefit our students throughout their careers. Interested in making a big noise? Apply today.
Interested in studying with us?
Click below to start your application, register for an open day or get in touch with any questions