Since graduating from our Live Sound degree course in 2016, Lewis' career as a sound engineer has seen him travel overseas working for the likes of MIKA, Travis and Seafret. As well as working as a Studio Assistant, he's also taught on a number of courses here at Spirit, so definitely knows a thing or two about working life in the creative industries.
"I worked as a Studio Assistant for many years while picking up freelance production gigs here and there. Sure, it wasn't the most glamorous job in the world but it allowed me to meet so many interesting people; from tutors and students to professional artists, bands, producers and sound engineers."
His time spent as a Studio Assistant is testament to his key piece of advice for anyone looking to make it in the creative industries:
You've got to be proactive and always be looking ahead. I've worked many jobs that weren't necessarily my dream but I knew they'd help me in the long run. Put yourself in environments where you can network and meet new people with the hope that one day something will stick and you'll catch your big break.
As our Creative Industries Advisor, Lewis' new role will help provide a link between students and employers. While you're busy learning and perfecting your practical skills, he'll be on hand to offer one-to-one career consultations, source work experience and enrichment opportunities, and offer CV and cover letter advice. In order to prepare you for life after university, he'll help nurture both your confidence and independence to ensure you get to where you want to be.
Students now have someone to turn to, aside from tutors, for advice. To bounce ideas off and work out exactly what it is you want to do outside of class time. Lewis will be devoting his time to seeking out jobs, internships and work placements for the Spirit Studios community, while also building relationships with creative industry organisations and employers. He's here to help you succeed in building a sustainable career.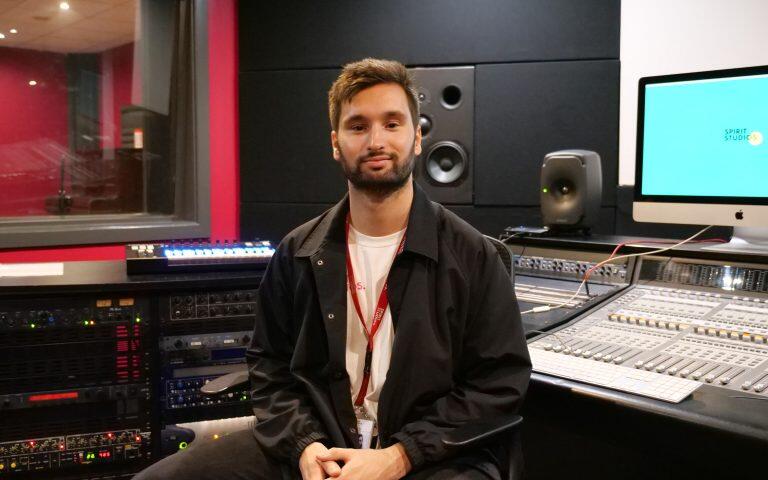 We caught up with Lewis to learn more about his new role, and get advice for finding your big break.
What advice would you give to students looking to get their start? What's something they can do right now to help their future career?
That does depend slightly on the type of career (or sector) you want, but ensuring you have a CV or portfolio that's up-to-date is key. If you want to be a DJ you should have a press pack ready which includes a recent photo, a short bio about yourself, a list of equipment you can work with, what genre of music you play etc.
If you find an opportunity but then have to rush to write a CV, the odds are you'll miss something off or at the very least, it'll add stress to the application process. Having something ready to give out – either a CV, SoundCloud or portfolio – at a moments notice is crucial. In an industry where jobs can crop up through word of mouth, forward-thinking is a core skill you'll need in order to succeed.
It's always good to have examples of your tracks ready to go, whether that be on your phone or on a memory stick. You never know when you'll meet someone, so it's always good to be prepared.
How would you encourage students to network?
Networking has a huge impact within the creative industries. It's so important to get out there and meet people. Don't be afraid to start conversations. If you want to record bands… go and chat to bands.
Going to gigs, local venues and showcases isn't just a way to fill your weekends. Being active in the scene will help you get your name out there and meet the people that'll help make your dreams a reality. Not only that but it demonstrates your passion for the industry.
So many of our students who have done well got their start working in the bar of clubs or event spaces. It's a great way to meet people, make industry connections and work your way up – plus you'll be earning cash along the way. Start working. Start talking. It's not something that's going to land at your feet. In this industry you really have to work at it and keep grafting.
How have you found freelance work? I'm sure it'll be a common way of life for future graduates.
Don't be afraid of saying yes. If you don't, you'll probably find you stop getting offered opportunities. It'll help build your confidence, as well as your reputation as a reliable, available professional. Once you've built that reputation you'll find work snowballs in. Oh, and learn to do a tax return ASAP.
The creative industries are currently experiencing a post-COVID boom. There's never been a more exciting time to kickstart your career, so don't be afraid of the prospect of working freelance. The live sound sector in particular is back and better than ever. Countless production companies are after local crew, including tech support and sound engineers. Demand is high.
This past summer was crazy. I saw so many job opportunities doing the rounds. Festivals and touring companies were practically begging for staff.
What makes Manchester such a good place for people looking to forge (or sustain) a career in the creative industries?
It's inexpensive for a start, making the uncertainty of a freelance lifestyle a lot easier. But more importantly, it's such a creative city. It always has been. There's so much life, with so many creative hubs and opportunities. Plus the people are friendly which makes all the difference when you're trying to get your start.
Whether it's music venues, art galleries or theatres; creativity is around every corner. From grassroots organisations to some of the biggest arenas in the UK, there's always something going on to get stuck into. MediaCity is another huge benefit which provides thousands of creative jobs in the local area.
What advice would you give to a first, second and third year student?
Come and chat to me! My door is always open. As a first or second year, it's especially vital you attend all your lessons. This is the time for you to be building your skillset and perfecting your craft so that when you're ready to make your own way in the industry, you have all the knowledge and confidence needed to excel. Third year is where you really need to be narrowing things down and figuring out your speciality. I'm here to help point you in the right direction and clarify a career trajectory. We can bounce ideas off each other, helping you better understand the variety of jobs that are out there.
Finally then, how can students get in touch to book a consultation?
Go to the Student Hub and you'll find a form to tell me a bit more about what it is specifically you want to chat about or need help with. I'll then be able to drop you an email and schedule a time for a one-to-one consultation.
If you'd like to get in touch with Lewis with jobs, work opportunities, residencies and more for our students, please email lewis.jones@spiritstudios.ac.uk
Join us at Spirit Studios
Spirit Studios provides an inclusive, supportive and collaborative network of like-minded students and expert tutors who will help you to achieve your goals. Our student support team are also on-hand to support you throughout your journey with us.
If you're looking to get into the creative industries, check out our courses:
Interested in studying with us?
Click below to start your application, register for an open day or get in touch with any questions