From working on monitors and front of house, to recently moving into work as a tour manager, Cal visited Spirit Studios to reflect on his career so far and discuss what working in the live sound industry is really like.
Taking it back to the beginning, what inspired you to pursue a career in live sound?
What excites you about working in live sound?
I think I get most excited about working in live sound when everything kind of seems on edge all the time – and unless you do a show, that kind of doesn't really make sense. But I like the thought that anything could go on at any time, and that constantly keeps me on my toes.
I've done loads of studio stuff and I've done loads of live stuff, and with studio stuff it's quite laid back and there's a time to think about everything, whereas with live sound you have to just react so quickly and it's so on the move. You're just constantly going, and I've never been able to get that adrenaline from anything else I don't think.
What's it like working in tour management?
My job is basically being a babysitter for everybody involved in a tour really. It all starts months before the tour actually starts, which includes: emailing venues, transport companies and backline companies, as well as booking flights and hotels, making sure the band know what they're doing, updating all the schedules. That's just before the tour even starts. Then it's just making sure everybody's happy and making sure we get from A to B, meeting the venue staff and the promoter staff, then making the show happen whilst getting drinks during the show when the band asks for drinks.
Afterwards it's all about getting us all home, then it's pretty much rinse and repeat every day. It's a little bit more intense than working on monitors or front of house, you're kind of in charge of everything, so if people need you then you've got to be there all the time. With monitors or front of house you can kind of switch off a little bit after the show, whereas with tour managing it's until you're in your hotel room or on the bus, and then you're off again back in a venue first and making sure everything's how it should be. So it's exciting, tiring, but it's good. It's a new challenge for me.
Do you have any career highlights so far?
Being an engineer on the Pyramid Stage at Glastonbury was pretty mad. I've always wanted to go to Glastonbury anyway, so then to be able to mix a show on the Pyramid Stage was wild. They kept pushing me out towards the centre of the stage because I was on a riser with my desk, I was like 'ohhh there's so many people' just staring as you're setting up the stage. I remember like all my mates that were at Glastonbury sending me photos and telling me that they'd seen me on stage. I think it was like 200,000 people there – and I'm not even playing the show, I'm just part of the team who put the show on. It was crazy but also so fun.
What's your favourite venue or festival that you've visited?
My favourite festival was probably Glastonbury, which was huge. We also did one called Corona Capital in Mexico, which was really really fun – it's right in the depths of Mexico City and it's crazy to see it. But my favourite venue, we did this last year when we were out with Greta Van Fleet, and it's a place in Vienne in France. There was this big old Greek Amphitheatre, and in the old ruins with giant steep steps they've just plonked a stage in the middle of it all. It was one of the best sounding venues I've ever heard, I was like 'this place is incredible.' It was 35 degree weather, and the view looked out across the whole of Lyon when you're at the top. I think that one definitely sticks pretty heavily as being one of my favourites that I've done in a very long time.
How did you go about making a name for yourself in the industry?
I know it sounds really cliche just being like 'work really hard'. I kind of just chucked myself so far into it, I lived in Manchester for like 3-4 years, which certainly helped me because I could just go and work in some venues, and always kind of be around and mithering people.
It definitely helps just being the friendliest person you can, especially when on tour you're spending around four / five weeks with 16 other people on a tour bus a lot of the time. Most people are great engineers, but to be a nice person to be around is so key.
I think I was in the right place at the right time, I started with one band and then met people touring as we supported other people. My Instagram was a big thing for me, that was basically my CV that I used for a lot of the time, and then I'd get occasional messages and then one thing led to another and 8 years later I'm still touring.
Is there a moment that stands out to you as when you knew you'd 'made it'?
I still think I've got a lot of learning to do, not particularly anything important, but when I meet certain engineers who are older than me and have been touring for like double the amount of time I have, I still learn things off them and I take that on to my next gig.
I think that not having to chase gigs as much has been the point where I've been like 'okay, I'm doing all right now.' It's been my full time job for six / seven years being self-employed, so I can kind of do what I want, and to be able to call that your full time job all the time that's probably when I guess you've made it.
What was it like studying here in Manchester?
What advice would you give to future students trying to break into the industry?
My advice for future students is probably just get into Spirit and just do it. Get behind the desks, use the credits, get in the studios and just mix. You won't know what sounds good unless you do it. I'd ring and message bands all day and ask them 'do you want to come and record a single for free?', and obviously young bands are going to be super keen for that. I'm not exactly saying I was Rick Rubin for a year, but it was the best I could do and I was using the best equipment probably that I'll ever use in my career. So make the most of it.
More student stories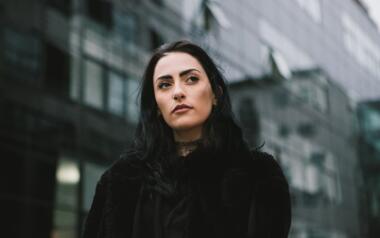 From growing up in rural Armagh to warming up the crowd for Annie Mac, Electronic Music Production graduate, Holly Lester, has already made more than a mark on the industry.
Read full story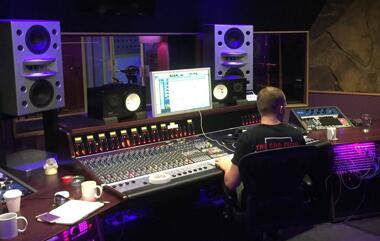 After graduating from our Music Production degree, Tom has gone on to secure positions in some of the most well-known recording studios in London, including Snap Studios, Strongroom and Air Studios.
Read full story
Interested in studying with us?
Click below to start your application, register for an open day or get in touch with any questions